Hawthorn East
Looking for a Foot or Heel Pain Clinic in Hawthorn East?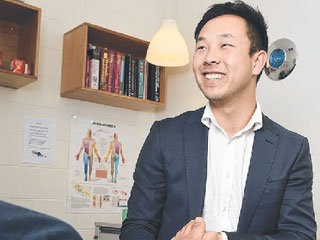 When you're looking for a podiatrist to help your foot, heel, ankle, shin or knee discomfort, you want to deal with someone who not only has experience in treating these concerns but also someone who really understands what it's like to suffer foot or leg pain, so you know they can empathise with the varying aspects of having such concerns. Each podiatrist at our Hawthorn clinic and our other locations across Melbourne, has had personal experience coping and managing foot and leg related complaints.
Not just a foot and heel clinic in Hawthorn, Foot & Leg Pain Clinics are also experts in assisting pain, injury and degenerative concerns related to the ankle, achilles, shin, knee and hip.
With a specific focus and expertise in Musculoskeltal concerns, Foot and Leg Pain Clinics have been the chosen podiatrists for some of the world's best golfers, tennis players, cricket players and Olympic gold medalists, as well as tens of thousands of people just like you.
When you see a musculoskeletal podiatrist at our clinic in Hawthorn, or in any of our other locations, we'll conduct a thorough assessment to make an accurate diagnosis. We'll consider your overall health and injury status and concerns, including your nutritional status, lifestyle factors and physical requirements, as well as your biomechanical structure and presenting symptoms, so we can determine the cause of your concerns and provide the most effective treatment plan for you.
Because we're more than a foot and heel clinic, we're able to look past the surface symptoms and access and address what's going on throughout the entire lower limb (from the hips down) so we can provide a more thorough and accurate diagnosis.
If you suffer any foot or leg pain including; Achilles, heel, knee or ankle pain or injuries, shin splints, arthritis, or bunions, you can be assured we will utilise our many years of experience and expertise as well as the very latest medical research and treatments to assist you.
And because we have clinic locations in Hawthorn, Malvern and right across Melbourne, Geelong and the Mornington Peninsula, you can rest assured that no matter where you are or what you do, there's bound to be a clinic nearby to help you.

Address: 392 Riversdale Rd, Hawthorn East 3122 Call: 1300 328 300