Visit One of Our Podiatry Clinics in Melbourne, Geelong or the Mornington Peninsula…
… And get the right advice & treatment to end your foot pain or leg pain!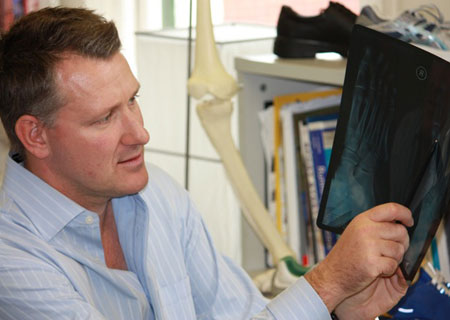 Are you experiencing foot pain, heel or ankle pain? Do you suffer from knee pain, injury or arthritis; what about shin splints, achilles tendonitis or plantar fasciitis?
Foot & Leg Pain Clinics are musculoskeletal podiatrists' with expertise in assisting pain, injury, children's and adolescent growth and development issues and degenerative conditions like arthritis and have musculoskeletal2 podiatry clinic locations in Melbourne, Geelong and the Mornington Peninsula.
If you're experiencing reoccurring foot pain or leg pain throughout the day, first thing in the morning or after work or exercise, it's important to seek professional advice from a health practitioner with specific expertise in lower limb pathologies, biomechanics1 and musculoskeletal2 medicine.
CALL

1300 328 300

for an appointment today.
At Foot & Leg Pain Clinics we've helped thousands of people of all ages and walks of life – from people who've suffered for years, those who just can't seem to find any answers to what is causing their condition or how to treat it, or have been told nothing can be done for them to others who've been prescribed long-term medication or surgery as their only options.
Unlike most podiatrists and podiatry clinics assisting foot pain in Melbourne, we are have specific expertise in biomechanics1 and musculoskeletal2 conditions. Our focus is in the prevention, diagnosis, treatment and rehabilitation of conditions associated with pain, injury and degeneration affecting the bones, muscles and tissues of the feet, knees and legs.
Common conditions we treat:
Heel Pain (plantar fasciitis / heel spurs / calc enthesopathy)

Bunions

Forefoot pain (metatarsalgia, including toe deformities)

Arch Pain

Ankle injuries (Ligament sprain / joint degeneration/ impingement syndromes)

Calf Pain (compartment syndrome / tissue strain)

Achilles tendonopathies

Shin Pain (Medial Tibial Stress / shin splints)

Knee Pain (PFJ & ITB syndromes, arthritis)

Hip Pain and arthritis

Muscle, tendon and ligament strains from acute injuries or overuse

Bone fractures (traumas or micro-stress related)

Arthritic conditions affecting weight-bearing structures

Kids / teenager growing pains & osteochondroses

Work and Sports injuries

Basic nail surgery (Partial Nail Avulsions)

Pressure relief for persistent plantar callous and corns

Soft tissue injuries
With 18 clinic locations, regardless of whether you are looking for an experienced podiatrist in Melbourne, its suburbs, Geelong or the Mornington Peninsula, we're sure to have a clinic near you. As leaders in our field, we've successfully assisted some of the World's Best Athletes and tens of thousands of people just like you.
Visit one of our leading podiatry clinics in Melbourne, Geelong or Mornington Peninsula today
Accurate Diagnosis + correct treatment plans = great results
All our podiatry clinics, in Melbourne suburbs and regional areas take a personal and holistic approach to health and healing. We look past the surface symptoms to accurately determine the cause of your concerns, in order to provide the best possible treatment. Whether you wish to see a podiatrist for general foot pain or leg pain, have an injury from a specific incident or accident, or because you've been advised you have arthritis or a degenerative condition, we can provide effective, natural solutions to assist. The key to successful outcomes is an accurate diagnosis and an appropriate and effective treatment plan. Many foot and leg conditions are misdiagnosed and therefore treated inappropriately, our expertise in biomechanics1, musculoskeletal2 and regenerative medicine helps to provide you with great results for long-term health and healing.

Appointments when you need them


When you need to see a podiatrist in Melbourne, in the outer suburbs or across Victoria, you want to be able to get an appointment as soon as possible. We have multiple locations and after hours appointments available, so we can usually book you in quite quickly. Our reception staff are friendly and helpful to ensure making an appointment with one of our podiatrists is easy. Whether you need a podiatrist in the Melbourne area, surrounding suburbs or at any of our other locations across Victoria, we'll do our best to accommodate your needs.



Expert Advice and Effective Solutions – We're more than just your average foot clinic in Melbourne
When you visit a podiatrist clinic you want to be able to get much more than a quick fix that offers only short-term solutions. Apart from an evidence based treatment programs specifically prescribed for your individual requirements, our musculoskeletal2 podiatrists can also provide you with strategies to assist you in staying pain and injury free in the long-term. We can:
advise you on footwear selection

provide specific and general exercises for conditioning and rehab purposes

advise on nutrition and supplementation to aid healing

assist faulty biomechanics1 and postural concerns

prescribe prescription orthotic therapy

provide regenerative medicine treatments such as Prolotherpay, PRP and Stem cell treatments to assist soft tissue injuries and degenerative conditions like arthritis
For appointments CALL

1300 328 300

.
1Biomechanics – how your muscles, bones and joints function, especially through movement
2Musculoskeletal - Conditions affecting the muscles, bones and joints