Kew
A Leg, Knee, Foot and Heel Clinic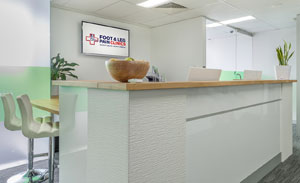 Foot & Leg Pain Clinics in Kew East, has been successfully assisting residents in Kew and surrounding suburbs with their foot and leg concerns for many years. Renowned as experts in our field our musculoskeletal podiatry team are leading the way in assisting people of all ages with lower limb pain, injury and degenerative conditions.
In fact our Kew clinic podiatrist, Dr. Paul Dowie, is one of Australia's most experienced musculoskeletal podiatrists, who has a degree in podiatric medicine, a science degree majoring in anatomy and physiology and post graduate studies in Regenerative therapies including Prolotherapy and Platelet Rich Plasma.
More than a podiatry clinic in Kew, our clinical expertise extends past your average foot clinic to address concerns related to the heel, ankle, shin, knee, hips and everything in between. So if you suffer with any foot or leg pain, injury and degenerative conditions, like arthritis, you can get expert help just around the corner
BOOK YOUR APPOINTMENT TODAY - CALL 1300 328 300
Conveniently located, our Kew podiatry clinic can be found on the corner of Burke Rd and Kilby Rd's in Kew East, just off the Burke Rd exit of the Eastern freeway. This makes our Kew clinic extremely accessible to residents right across the eastern and northern suburbs.
UPDATE:
Our Kew clinic has now moved just a few minutes up the road to 216 Lower Heidelberg Rd, Ivanhoe East. Please see new Ivanhoe East clinic location map below.
BOOK YOUR APPOINTMENT TODAY - CALL 1300 328 300
.
Address: 216 Lower Heidelberg Rd, Ivanhoe East