Dr Paul Dowie
Dr Paul Dowie - Musculoskeletal & Sport Podiatrist
BSc (Hons) BPod MAPodA MSMA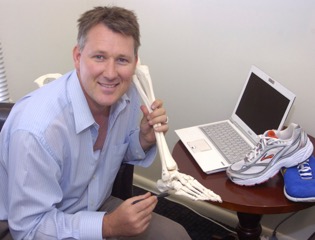 As one of Australia's most experienced sports and musculoskeletal podiatrists, Dr. Paul Dowie has been the chosen practitioner of many elite athletes both nationally and internationally. His clients have included eight of the World's #1 Tennis Players, many of the World's best PGA Golfers, Players of the Australian Cricket Team and Olympic Gold Medalists.
What Paul enjoys day to day, though, is helping people of all ages and lifestyles to alleviate pain, discomfort and injury so they can continue to lead healthy, active lives. This passion and dedication lead him to create Foot & Leg Pain Clinics, which are dedicated to assisting pain, injury and degenerative issues associated with the lower limbs (from the hips down). The clinics are not just foot and ankle clinics, they assist concerns related to the heel, achilles, shin, knee and hip, as well as the rest of the foot and ankle.
A champion athlete from a young age, Paul was an exceptional junior athlete who won silver at the Australian track and field championships. He later gained a scholarship to the Australian Institute of Sport as a member of the Australian Taekwondo Team and Australian Olympic Squad. He was a multiple Australian champion and represented his country internationally on many occasions but when a severe competition injury ended his career prior to competing in the Sydney Olympics, Paul turned his focus to assisting others with their pain and injuries.
Paul completed an honours degree in Science & Exercise Physiology, before studying Podiatry at Latrobe University. His studies along with his vast clinical experience treating and teaching all facets of Podiatry from Sports & Musculoskeletal Medicine to Children's needs, and balance/falls risk in Seniors, combined with his personal history experiencing reoccurring foot problems when he was an athlete, have contributed to Paul becoming the sought-after practitioner he is today.
With a long-standing reputation as a highly professional and respected musculoskeletal podiatrist, Paul firmly believes in taking a holistic approach to health and healing and works to achieve positive long-term results for his patients.
Paul has expertise in all areas of podiatry and excels at diagnostics, prescription orthotic therapy, natural injection therapies such as Prolotherapy and PRP, strengthening and stretching programs and has helped developed a clinically proven system to assist with Falls Risk for seniors.
As a renowned musculoskeletal and sports podiatrist in Melbourne, with extensive experience, Paul is well placed for to care for you and your family. He is a member of the Australian Podiatry Association and Sports Medicine Australia and is recognised by AHPRA.
Paul is also a specialist consultant to other practitioners particularly in regards to orthotic therapy and mentors other young passionate podiatrists.